IT'S THAT TIME AGAIN FOLKS!
Opie Oils
are pleased to announce that we're currently running our very popular Fuchs Titan Race Pro offer -
FREE 1 LITRE with every 5 litre of Fuchs Titan Race Pro S 5w-30, 5w-40, 10w-50, 10w-60, Pro R 10w-40, 15w-50 and Pro C3 5w-30
Don't forget to combine this with your club discount (usually found in signature) to get an additional 10% off your order - we also offer
FREE UK MAINLAND SHIPPING ON ORDERS OVER £50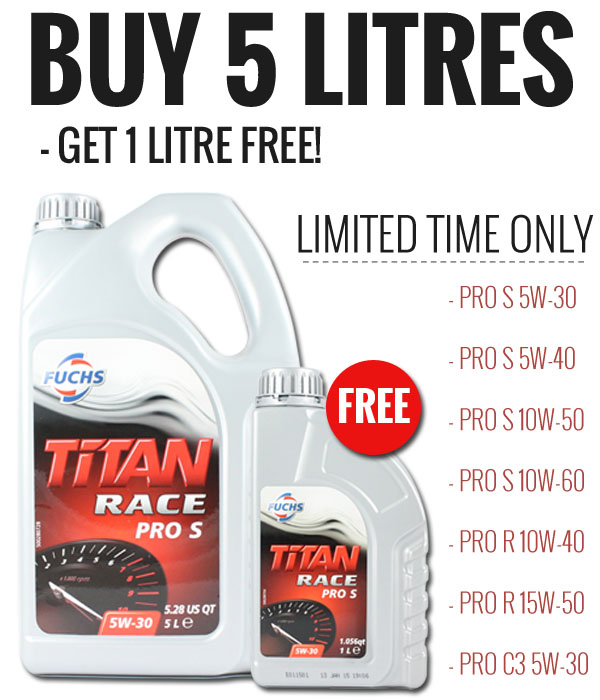 You can order any number of 5 litre bottles to get the same number of 1 litre bottles
absolutely free
. For example, if you buy 4 x 5 litres, you will also receive 4 x 1 litres
COMPLETELY FREE OF CHARGE
. To receive your free litre, make sure you select the promotional 5 litres (Plus a FREE 1 litre) option that will be displayed seperately from the standard 5 litre option.
Below, you will find links to each of these fully synthetic, ester based race oils, including prices, technical specifications and further information. Prices shown below include your forum discount:
-
FUCHS TITAN RACE PRO S 5W-30
:
£46.35
-
FUCHS TITAN RACE PRO S 5W-40
:
£43.16
-
FUCHS TITAN RACE PRO S 10W-50
:
£46.76
-
FUCHS TITAN RACE PRO R 15W-50
:
£42.75
-
FUCHS TITAN RACE PRO S 10W-60
:
£46.76
-
FUCHS TITAN RACE PRO R 10W-40
:
£48.56
-
FUCHS TITAN RACE PRO C3 5W-30
:
£44.96
The full range can be found
HERE
. This is a limited time offer, so get those orders in quick!
If you're a fan of free 1 litres, special offers and discounts, then you may want to have a look at our
CURRENT OFFERS
page. We're sure you'll find a great deal.
That's it from us today, but as always if you require any oil advice then feel free to ask. You can call us on
01209 202944
Monday - Friday 8.30am - 5.30pm, send us an email to
sales@opieoils.co.uk
or just ask us here and we will be happy to help.
Until next time
- Oilman