Well, I had a look at the timing today and when the flywheel pin was locked in sure as anything the cam was out by a few degrees. So I set to remedying the situation, I got everything stripped ready for moving the cam round at which point the camchain tensioner unloaded itself and fired all it's internals into the tunnel :evil: :evil:
I then had to remove the sump and fish out the remains of the tensioner, after a fair bit of colourful language and attempting to put the first spanner into space from Hertfordshire I got the tensioner back out and refitted the sump, I rebuilt the tensioner and put it to one side and moved round the cam wheel as described earlier, it was a very easy job to do (as long as you don't drop debris into the engine :evil: ) it turned out to be about 5 vernier teeth out, I buttoned everything back up again and fired up the car and I must say the difference was very noticeable, not only easier starting but much smoother running straight away. I drove the car to the local meet and it's behaving much better and I'm very happy with the results and I think it will improve even more as the accumulated nastiness in the combustion chambers burns away. 4th gear is now my friend again as I can actually gather speed uphill rather than stirring the box to maintain momentum, I will now have to undial all of my previous adjustments I made to get it back to exactly where it needs to be mixture and timing wise.
Making this adjustment has really opened my eyes to how perky the little 2000 engine can be, I barrelled into a few corners driving home earlier a bit too quickly as the car seems so much more spritely and the engine note/feel has altered. I took a few pics along the way too which show the timing being out and the positioning of the camwheel bolts as described in earlier posts.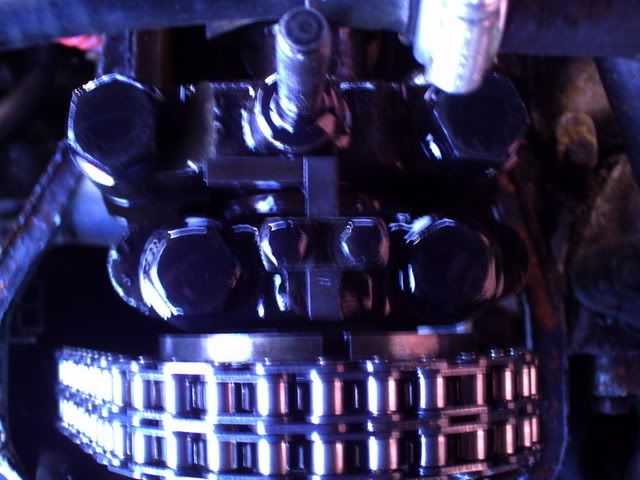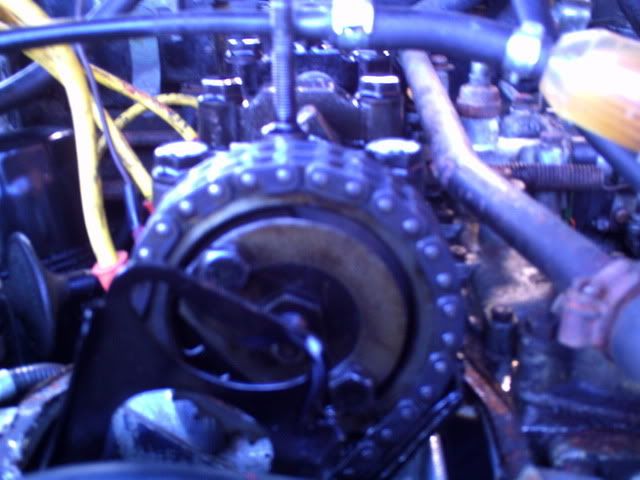 This is what has to happen if you lose part of the tensioner down the tunnel :evil:
SUMP OUT!